Mary Schiavo is the author of The Blameless Blue Sky (a registered trademark of Mary Schiavo) series of books on aviation.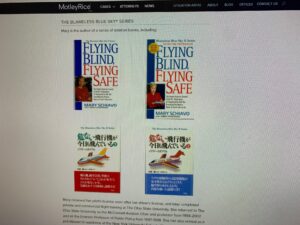 In addition to The Blameless Blue Sky series, Mary has authored books and articles and participated in aviation-related documentaries, including:
Ghost Planes – And the Mystery of Flight 370, August 4, 2014
Counterfeit Culture – Documentary on use of counterfeit parts, November 6, 2013
Supply Chain Security: International Practices and Innovations in Moving Goods Safely and Efficiently (Volume One and Two, 2010)
Aviation Security Management, Volume One, Chapters 9 & 10, pages 122-260. (2008)

Introduction to Terri Severin's book In the Wake of the Storm, 2008

On Native Soil – The Documentary of the 9/11 Commission Report, August 15, 2006

Is the NTSB Deck Stacked Against Pilots? ATLA Aviation Law Section, Vol. 13, No. 1, Fall 2005
"Flying Right: What It Takes to Make Aviation Safer and More Secure after 2001," 14 DePaul Business Law Journal 279-301 (2002)
Air Comfort – Copyright 1998 – Translated into Japanese
Safe Air – Copyright 1998 – Translated into Japanese
Flying Blind, Flying Safe – Copyright 1997 (A New York Times bestseller and one of Business Week's 1997 top 10 business books of the year.)
Mary Schiavo has been featured in numerous documentaries, news articles and reports, including:
"Flying Into Trouble" – March 31, 1997 – Time Magazine.
"I Don't Like To Fly" – May 20, 1996 – Newsweek.