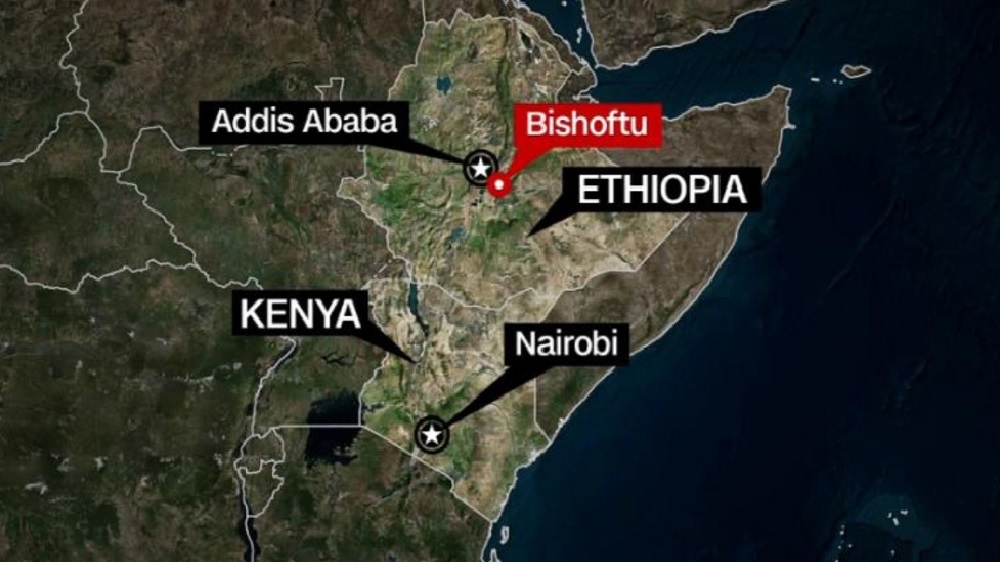 Ethiopian Airlines Flight 302 from Addis Ababa, Ethiopia, to Nairobi, Kenya, crashed shortly after takeoff on Sunday morning. The airline's CEO has confirmed there are no survivors from the crash, which took place minutes after takeoff from Addis Ababa. The airline announced there were 149 passengers and 8 crew members on board. The passengers were of 35 different nationalities, including 8 Americans and 18 Canadians.
The pilot reported technical difficulties after takeoff and asked for clearance to return to Addis Ababa. The airline CEO said the pilot had flown more than 8,000 hours and had an "excellent flying record." The airline reserved any further speculation on the cause of the crash, stating that it was a new aircraft, flown by a skilled crew. Ethiopian Airlines has grounded its 737 MAX 8 fleet indefinitely as an "extra safety precaution." Other airlines have also grounded these aircraft.
The flight was operated on a Boeing 737 MAX 8, the same model as the Indonesian Lion Air jet that crashed soon after takeoff from Jakarta in October 2018, killing all on board that flight. At this time, it is unclear whether there is a connection between the two crashes, but investigators will undoubtedly examine the wreckage and look to data from the plane's black boxes, which were recovered on March 11, to determine what similarities, if any, can be drawn between the two tragedies. The Lion Air plane was also a new aircraft, and Sunday's Ethopian Airlines' crash is the second crash involving the 737 MAX 8 fleet – and just six months apart.
In both crashes, the pilots reportedly made requests to return to the airport within minutes of takeoff. Initial reports from the brief flight of Ethiopian Airlines Flight 302 indicate the aircraft was having difficulty in its initial climb, as it appeared to rise, dip, and then sharply rise in altitude before falling from the sky. In a normal takeoff and ascent, an airplane would continue to climb for several thousand feet before leveling off. This data, currently available from ADSB sources, will be corroborated and supplemented with data retrieved from the aircraft's Flight Data Recorder and Cockpit Voice Recorder, collectively known as "black boxes."
The potential similarities between the two 737 MAX 8 crashes, both on new aircraft, will place new scrutiny on Boeing. Following the Lion Air crash, the company informed airlines that when the aircraft detected instrument discrepancies on the aircraft,which would automatically push the aircraft's nose down to prevent it from stalling, but simultaneously preventing it from climbing.
Following the Lion Air crash, the U.S. Federal Aviation Administration (FAA) issued an Emergency Airworthiness Directive, which provides a detailed checklist of steps to take when a flight crew experiences a "runaway stabilizer" event, like that experienced by the Lion Air pilots. The FAA acknowledged that the problem could cause could cause the flight crew to have difficulty controlling the airplane, and lead to excessive nose-down attitude, significant altitude loss, and possible impact with terrain. Sadly, in the absence of additional data, the similarities between the two crashes create serious doubt about the safety of this aircraft until the investigations are concluded.
The FAA, however, stated that though an evaluation of the Boeing 737 8 MAX software and design would continue, there would be no investigation beyond what was being carried out in cooperation with Indonesian authorities on the Lion Air crash.
U.S. airlines which have the 737 MAX 8 in their fleets, including American Airlines and Southwest Airlines, have not taken steps to ground these planes. By contrast, China's civilian aviation authority took a different approach, ordering all Chinese airlines to ground 737 MAX 8 airplanes in the aftermath of Sunday's crash. Lion Air has also grounded these planes.
Mary Schiavo, a CNN aviation analyst and the former Inspector General of the U.S. Department of Transportation, called the two incidents "highly suspicious."
"Here we have a brand-new aircraft that's gone down twice in a year. That rings alarm bells in the aviation industry, because that just doesn't happen," she said. "New aircraft," she noted, "usually bring improved safety statistics.
Though it is too soon to definitely conclude that these two crashes were caused by the same faulty design, investigators will undoubtedly compare the data from the two events to determine exactly what caused these crashes, and what actions should have prevented the needless loss of lives.
Boeing released a statement saying it is "deeply saddened" by the crash, adding that it "stands ready to support the Ethiopian Airlines team" and will "provide technical assistance" under the direction of the U.S. NTSB.
In interviews with CNN International, Motley Rice aviation attorney Mary Schiavo said investigators will examine whether Ethopian Airlines had fully implemented the Airworthiness Directive issued by the FAA and other aviation nations to instruct pilots on how to respond to such an event. Further, Mary said whether the pilots began having trouble as they retracted the plane's flaps and/or landing gear may be significant to investigators. Though full investigative reports often take a year or more to complete, Mary expects some initial findings to be released quickly.
CNN Aviation analyst @MarySchiavo on the Boeing 737 Max, the same plane model in today's #EthiopianAirlines crash and October's Lion Air crash. pic.twitter.com/tXMy4KRcft

— Pauline Chiou (@PaulineChiou) March 10, 2019
Mary Schiavo is an experienced aviation attorney representing passengers and their families following international air disasters, including those involving product defect issues, mechanical failures and airline negligence. Mary Schiavo works and is licensed to practice law in South Carolina, where Boeing has a major manufacturing presence. For more information, contact attorney Mary Schiavo at +1 843.834.2445 or via email at mary@maryschiavo.com.