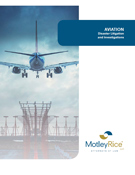 To learn more about Mary's aviation law practice, approach to cases, and litigation experience, download Mary's law firm aviation brochure.
If you would like to interview Mary Schiavo, contact her at:
mary@maryschiavo.com
Tel.: +1 843.216.9138 (office) ; +1 843.834.2445 (mobile)
Fax: +1 843.216.9450
Mary Schiavo
Motley Rice LLC
777 Third Avenue, 27th Floor (btwn 48th and 49th)
New York, NY 10017
She is licensed to practice law in Florida, Maryland, Missouri, South Carolina and Washington D.C.